Google, Yahoo, MSN, etc, etc
The Blue10 Internet search engineering service assures that your web site pages 'get in' and 'stay in' the search index which powers top search sites on the Web, including Google, Yahoo, MSN, HotBot, LookSmart and Overture.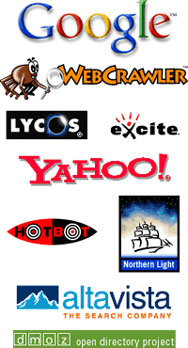 Fast Placement
With Blue10 your Web pages are usually added to the index within 48 hours - not the weeks or months it usually takes with other services.
Updated daily
Your listings are constantly updated to ensure that changes to your Web site are reflected automatically. This allows you to quickly see the impact in your ranking.
Top Results
Blue10 search engineering cannot guarantee that your Web page will appear at the top of the search results for any particular keyword, but we sure try and mostly get very close.

Try searching for "audi diesels" or "Motorhome hire" in any major search engine, even "used cars" brings top 10 results for many Blue10 sites. Try Google ...



Free Search Engineering
We include search engine optimization in the monthly price! We don't just build your site, we manage it for you! We submit your site to all the leading search engines and monitor it's progress for you.

If you have an existing site and want to improve its search engine results, you've just found the right people. Give us a call or send an email ...